"In Our Hands" Campaign MICROSITE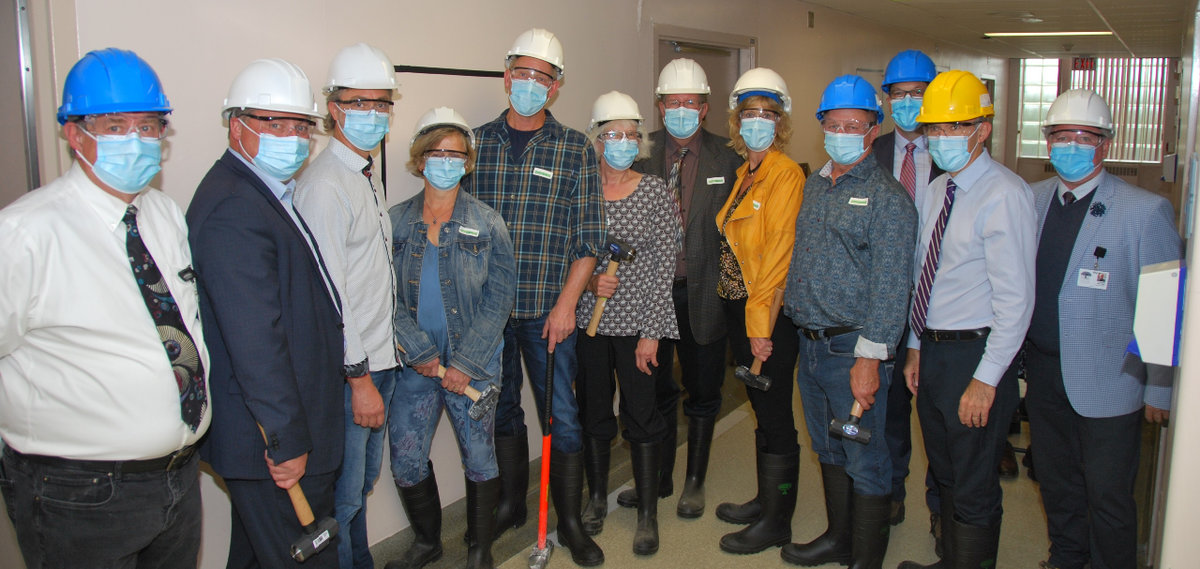 Chemo/Pharmacy Wall Smashing Ceremony -
Sept. 2021

The Chemotherapy and Pharmacy renovations have begun with a "Wall Smashing" event hosted on Wednesday, September 22nd on the 4th floor of Stratford General Hospital.
We are thrilled to announce the tremendous catalyst gift made by the Van Nes family, who have pledged $5 Million dollars to the #InOurHands campaign. Our work at the Foundation is made possible by the dedication and support of our incredible donors. We can never say thank you enough!

Our Donors Have Real Impact

The SGH Foundation Board Members send their heartfelt thanks to our wonderful donors…
In the 2022/2023 fiscal year:  The Stratford General Hospital Foundation disbursed $1,022,369.39 to the hospital.
We couldn't do it without your generosity!
Our 2023-2024 SGH Foundation Board of Trustees:
Back Row, L-R: Matt Rees, Josef Frank (Vice-Chairman), Barb Thibeault (Board Chair), Rick Orr (IOH Campaign Co-Chair), Robert Gould, Paul Roulston (IOH Campaign Co-Chair), and Hugh McDonald.  Front Row, L-R: Cheryl Hunt (Executive Director), Fritz Steigmeier, Alyson Conrad, Phil Buxton (Treasurer), and Jean Smelski.  Absent: Mayor Martin Ritsma, Andrew Williams, and Colleen Misener (Honourary).

REMAX a-b Realty Ltd.

As things are "springing forward" with our New Cancer Care & Ambulatory Medical Clinic redevelopment, we'd like to recognize the fabulous team members of RE/MAX a-b Realty Ltd. for pledging $200,000 towards the Communication Station in our Cancer Care and Ambulatory Medical Clinic. Your investment in patient care brings new possibilities closer to home!

On behalf of our patients, their families, and hardworking caregivers- we can never say thank you enough!

10/2022: Another Reason to SMILE

Thanks to incredible community support- and the tireless efforts of Tim Hortons staff and volunteers, this September's SMILE Cookie Week raised $31,164.05 towards a replacement MRI for Stratford General Hospital!
L-R: Rita Bedour- General Manager, Stratford (Huron St.) & Mitchell, Ontario St & Erie St Owners - Brent Theobald and Lisa Macdonald, Andrea  Page, Megan Adair-Owner, Stratford (Huron St.) and Mitchell.

Our Donors Have Real Impact

The SGH Foundation Board Members send their heartfelt thanks to our wonderful donors…
In the 2021/2022 fiscal year: an impactful $1,614,186.54 was raised to help purchase much needed tools and equipment for our hospital. We couldn't do it without your generosity!
SGHF Board Members, L-R: Andrew Williams- President and CEO HPHA, Andrea Page- Executive Director SGHF, Barb Thibeault- Board Chair, Hugh McDonald, and Rick Orr- IOH Campaign Co- Chair.   Regrets: Phil Buxton- Treasurer, Paul Roulston- IOH Campaign Co-Chair, Josef Frank, Matt Rees, Dr. Keith Sparrow, Jean Smelski, Alyson Conrad, Robert Gould, Fritz Steigmeier, and Colleen Misener (Honourary).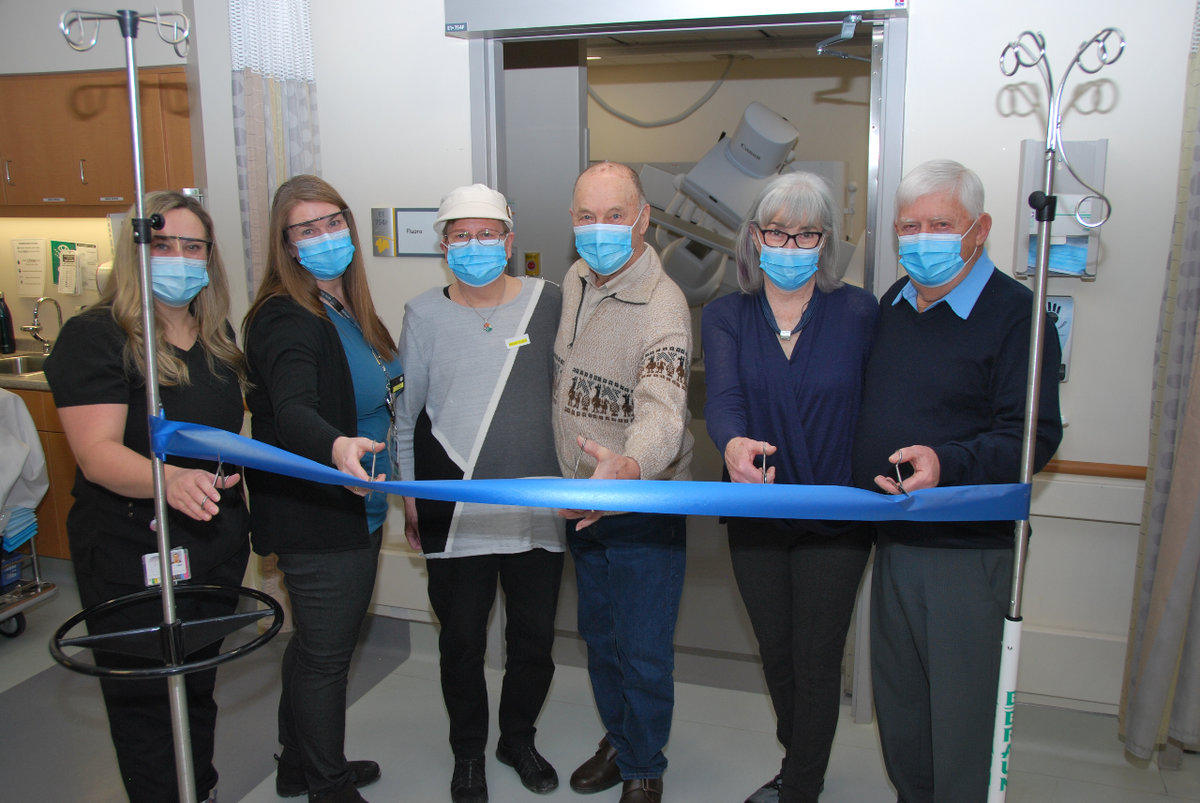 Digital Fluoroscopy suite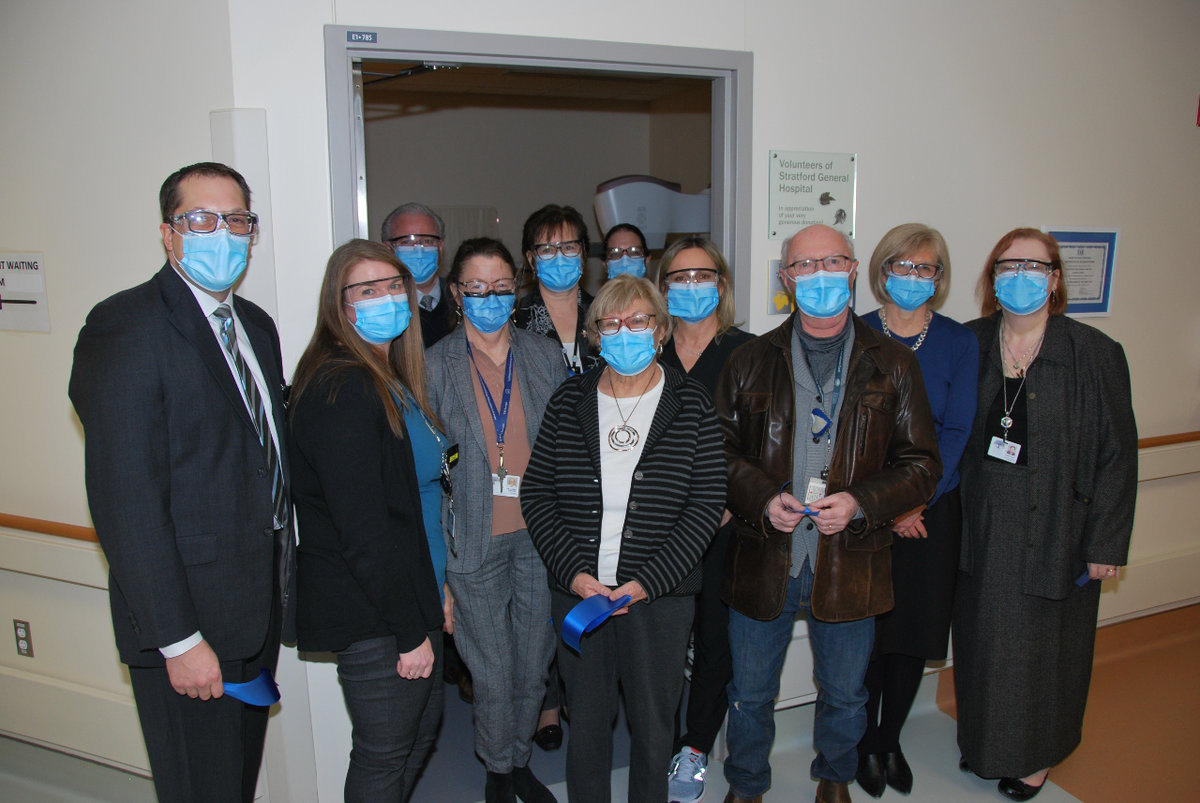 Additional Digital Mammography suite

02/22/2022
Ribbon Cutting Ceremonies- NEW Digital Fluoroscopy suite, and additional Digital Mammography suite
Thank you to our very generous donors who make this all possible!

On Tuesday, February 22nd, 2022 we held "Ribbon Cutting Ceremonies" for our
NEW Digital Fluoroscopy suite, and additional Digital Mammography suite at Stratford General Hospital.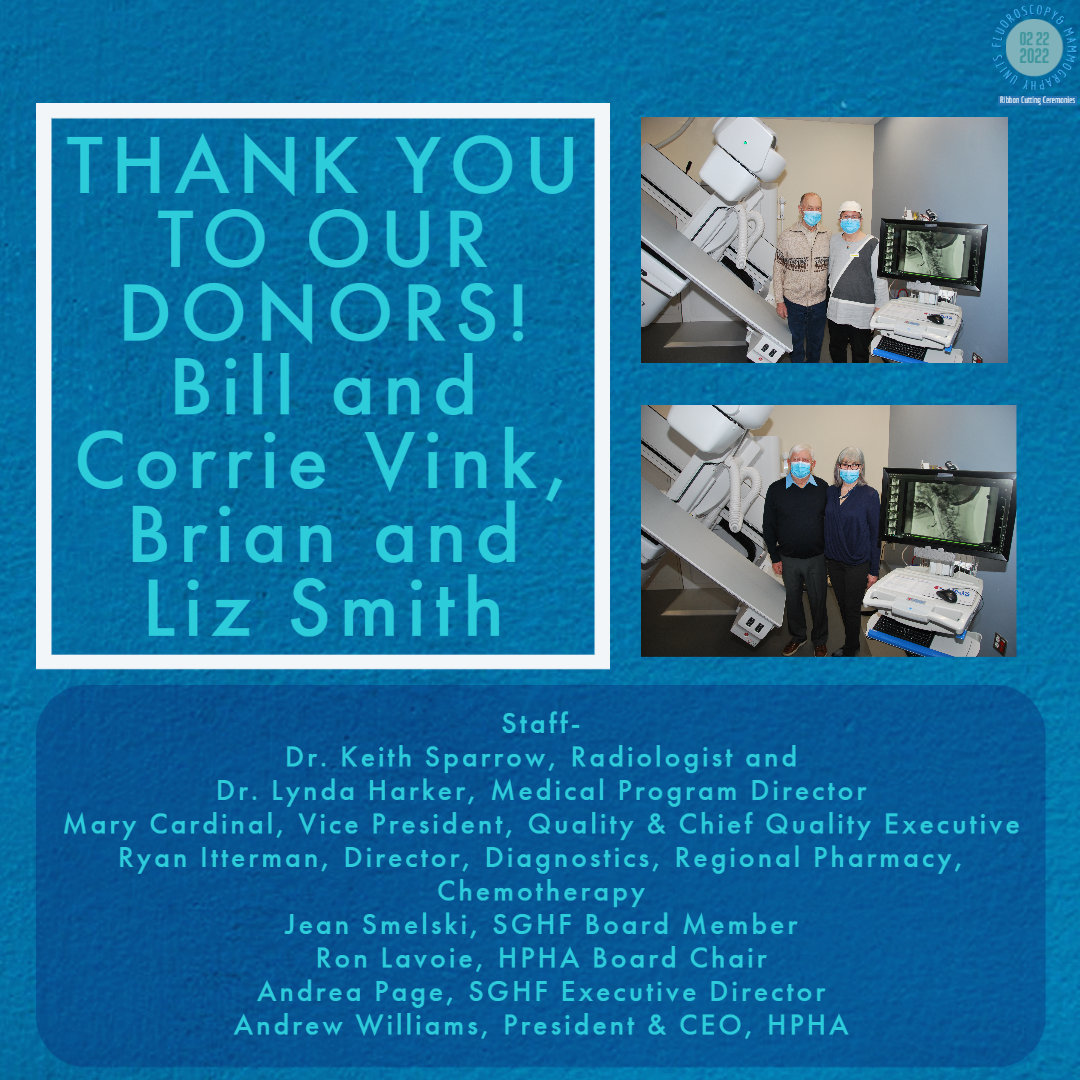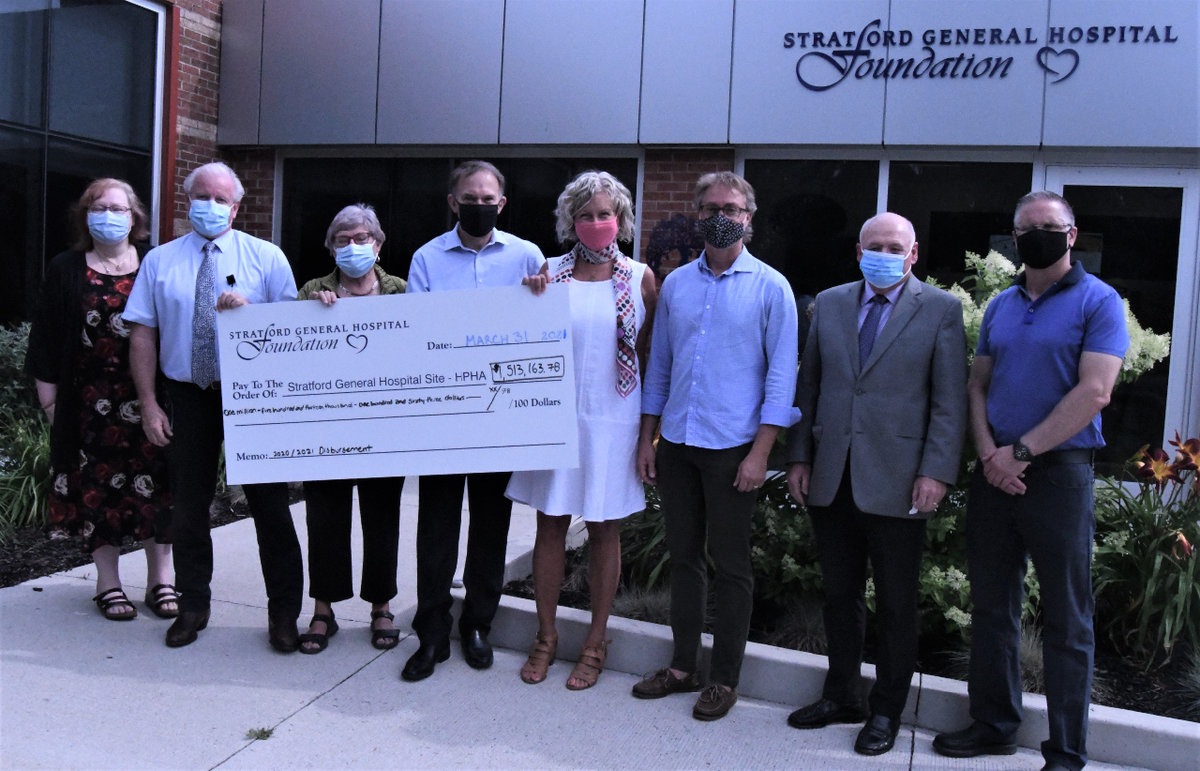 Another Year of Generosity
 
2020-2021 Disbursements
Pictured: SGH Foundation Board of Directors         L-R:  Andrea Page- ED, Andrew Williams, Jean Smelski, Paul Roulston- Board Chair, Barb Thibeault, Rick Orr, Hugh McDonald, Matt Rees
Absent:  Josef Frank, Phil Buxton-Treasurer, Dr. Keith Sparrow, Colleen Misener- Honorary Life Member
An incredible $1,513,163.78 has been disbursed for the fiscal year 2020/21 to Stratford General Hospital... We couldn't do it without donors like YOU!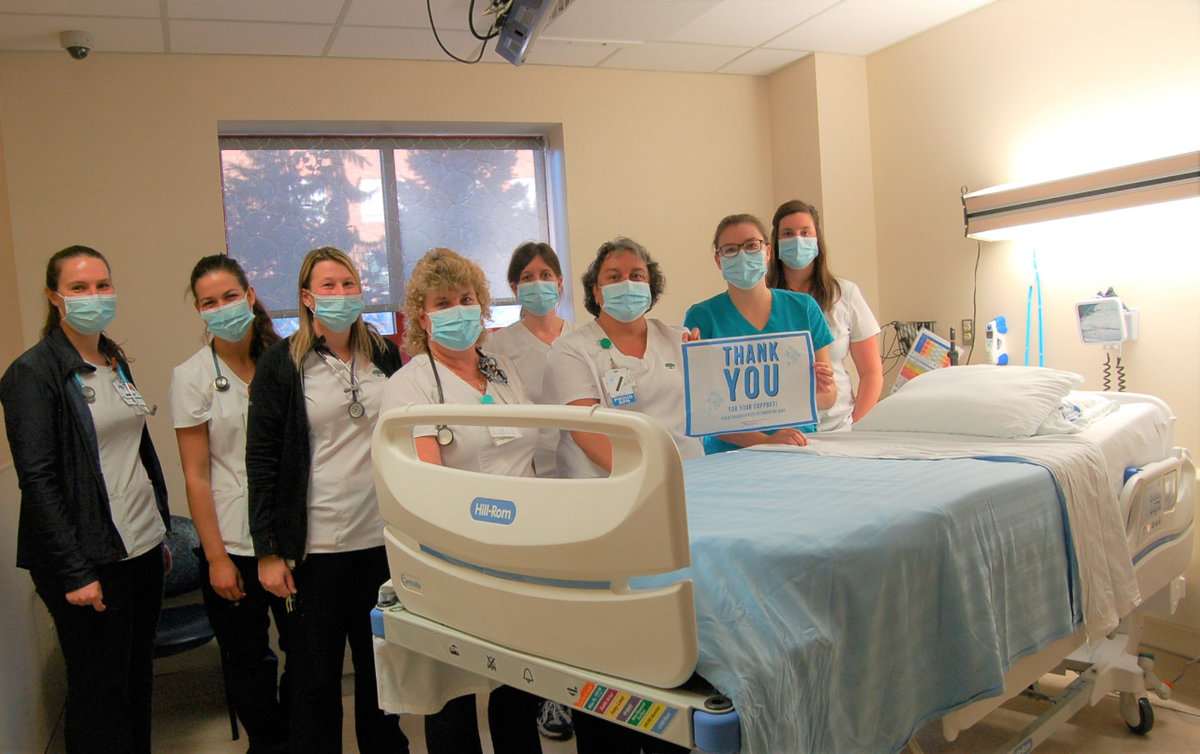 Hill-Rom bed delivery to replace ALL 32 beds in the Medicine Unit
October 2020- 32 Hill-Rom beds (totaling $362,640.00) replaced ALL the beds in our Medicine Unit- thanks to donors like YOU!

WATCH THE VIDEO HERE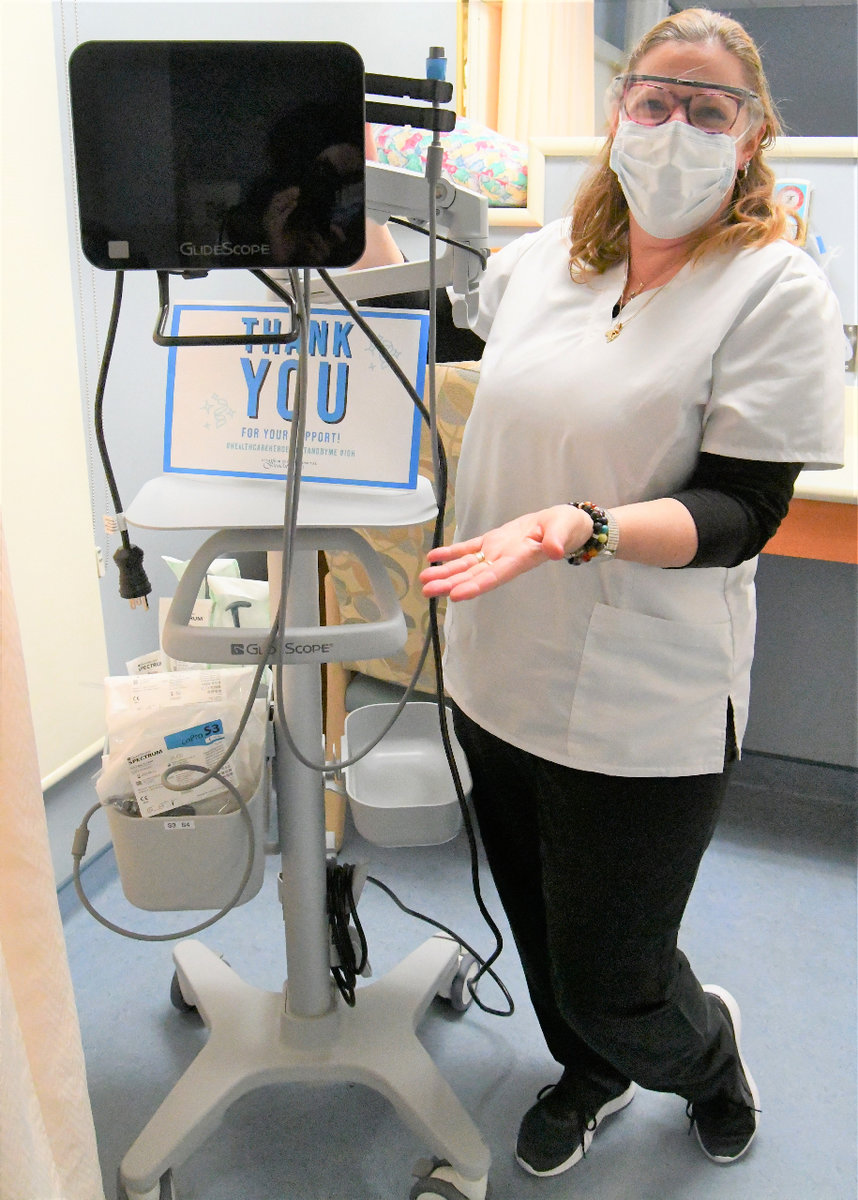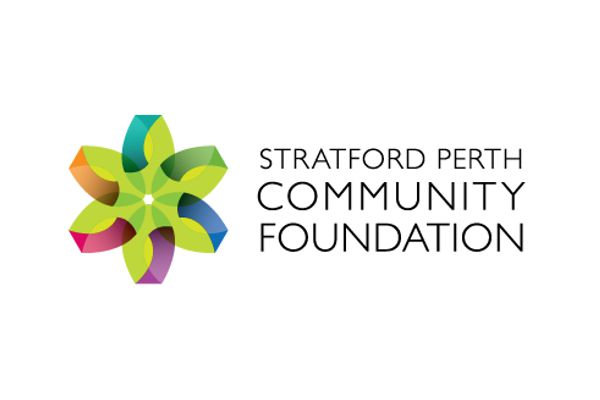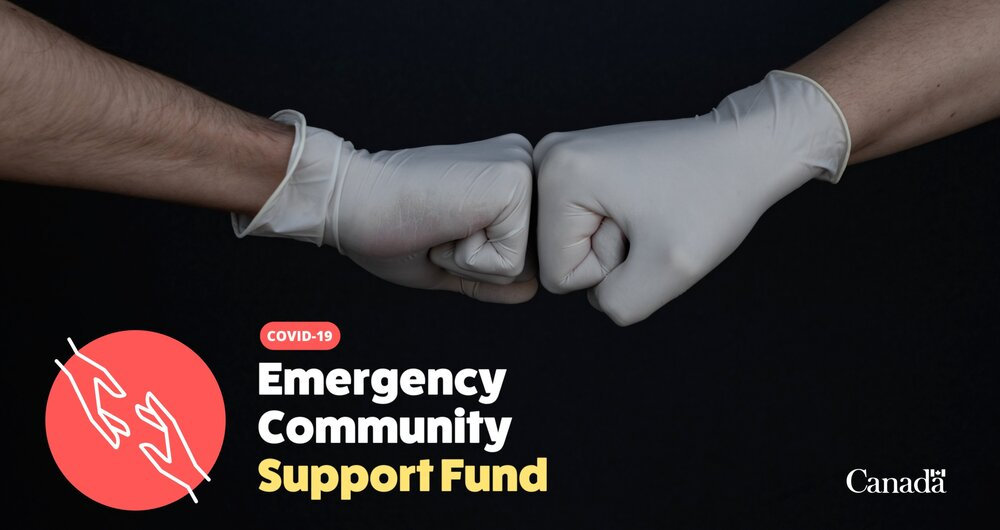 A Glidescope
To Save Lives
Pictured: Loralee McNaughton,RN Mat-Child Unit
The Glidescope is an important tool for life saving measures for adults, infants and children and is necessary for intubation of patients and would be required for suspect/confirmed COVID patients. We are so thankful to be a repeat recipient of the Emergency Community Support Fund, in partnership with Stratford Perth Community Foundation!

In this round: as well as receiving funds for The HPHA Peer Support Program, the Stratford General Hospital Foundation was awarded $12,100 for "a Glidescope to save lives".


Another big thank you goes out to Loralee McNaughton and her family for their gift to help purchase a specialized Glidescope Attachment for infants, in memory of their Father: Robert Seaboyer.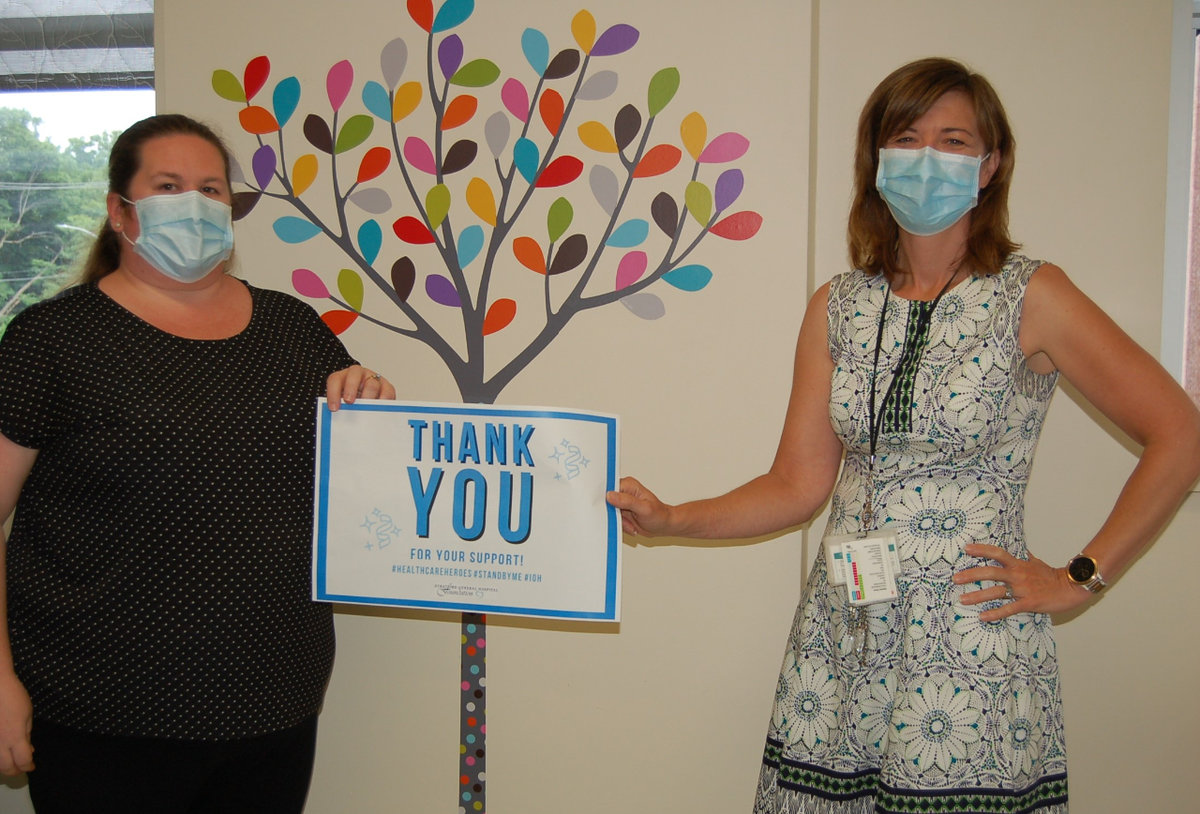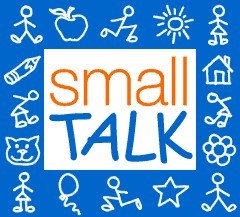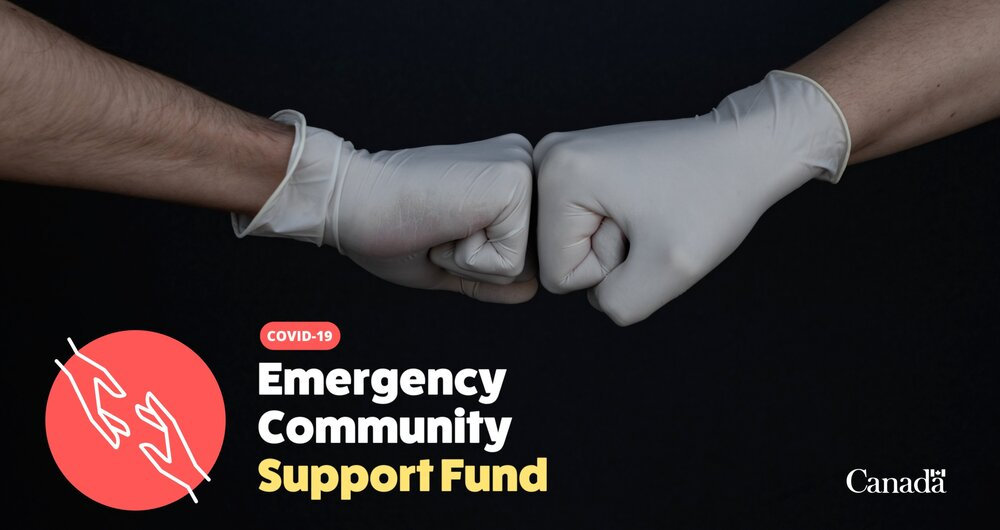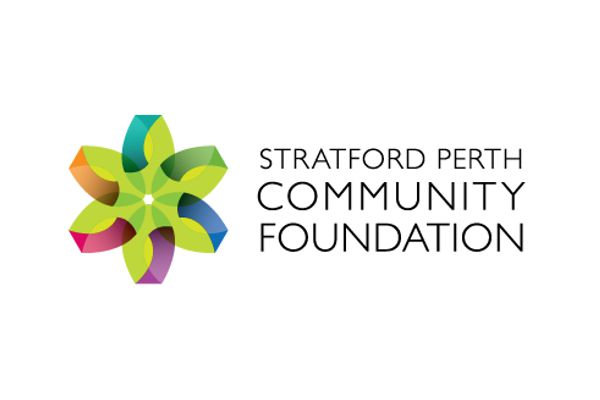 smallTALK is a #ECSFund Recipient!
COVID-19 has certainly brought many changes to smallTALK, Huron-Perth's Preschool Speech and Language Program. Our clinicians went from providing face-to-face service in our clinics and within the community at Early Childhood Learning Centres and homes to only being able to conduct phone consultations with families and service providers in the community.

As COVID-19 continued to impact our ability to work directly with our pediatric clients we knew that we had to start looking at new (for us!) ways of providing services to our young clients. Virtual telepractice allows us to provide direct assessment and therapy to our clients through the use of video, which in turns helps us to plan current and relevant treatment for our clients.
The equipment needed to support virtual telepractice can be costly when you are starting out and without support, only the bare minimum could be provided. However, with the support of Andrea Page at the Stratford General Hospital Foundation, we were able to apply for a grant through the Emergency Community Support Fund to help offset the cost. We are extremely grateful to the Stratford Perth Community Foundation for recognizing the importance of early therapy for speech and language development and supporting our grant proposal. Through their generosity we were able to not only purchase the bare necessities, but additional equipment and technology that will allow us to connect with many of our families across our two counties and continue to provide the exceptional support our families have come to expect…even if it is at a distance!

- Julie D. Brown, MSc, SLP(C), Reg CASLPO
 Manager of smallTALK: Huron Perth Preschool Speech Language System

(2020)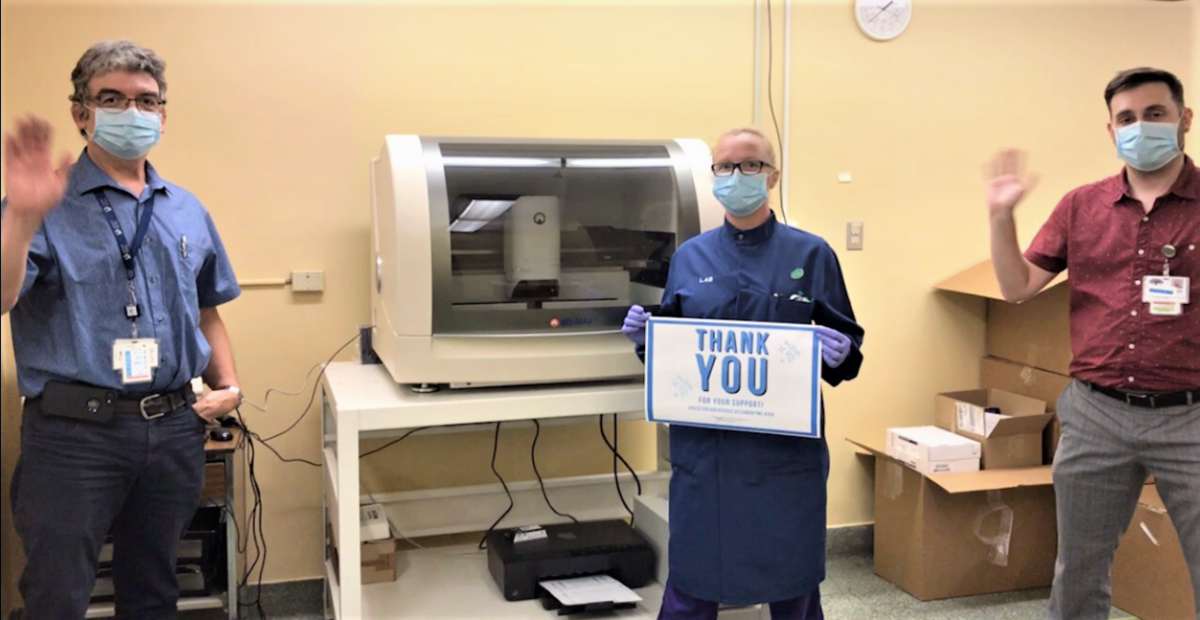 BD MAX - Paid in Full!

Thanks to donors like you... 

Pictured here: 
Dr. Bill Brintnell, Terri Natywary and Josh Lewis from the SGH COMBINED LAB.PRG.

Microbiology BD Max Analyzer which uses molecular technology to quickly detect viruses is now "PAID In FULL" through donor generosity.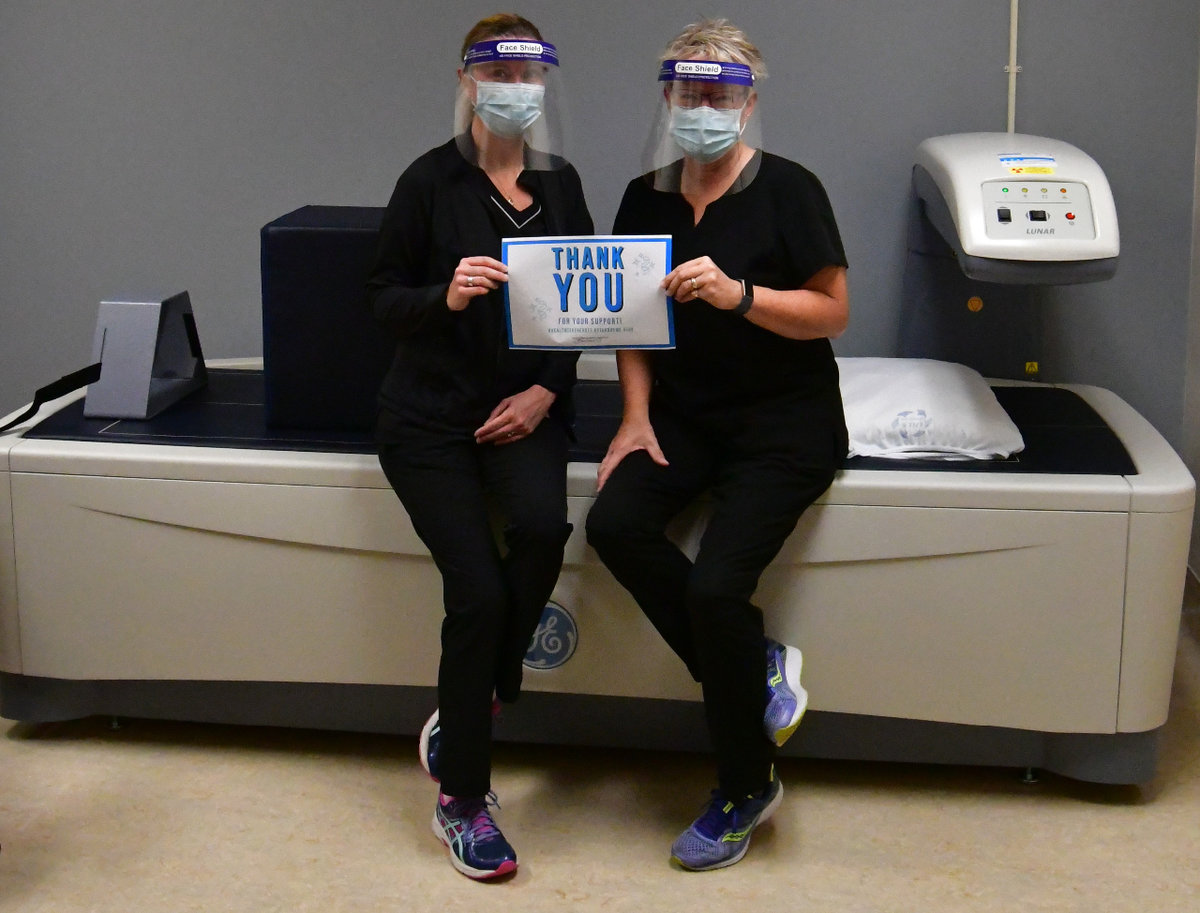 Shining Generosity- Our BMD Unit is PAID IN FULL!
Pictured Here:  Jenn Carter,MRT(R) CBMD ADT & Lori Selves, MRT(R) CBMD ADT
WATCH our Ribbon-Cutting Video 

"Stratford General Hospital now has the latest state-of-the-art X-Ray Bone Densitometer that will be used to diagnose our patients' bone mineral density.  The General Electric Prodigy DXA system is able to provide a fracture risk assessment of the lumbar spine and hip with a relatively quick, non-invasive and painless test.  The radiation dose of a bone densitometer is the lowest of any x-ray instrument. 
DXA stands for Dual-Energy X-ray Absorptiometry.  It uses the differences in the absorption of high energy and low energy X-ray photons by different elements to quantify the amount of bone and soft tissue in the body. Certain elements in bone minerals, calcium for example, will absorb more low-energy X-rays than the elements in soft tissue.  This enables a precise and accurate estimate of bone mineral density (BMD). An additional feature with our new unit is Body Composition which analyzes and shows changes in fat & muscle mass and body fat percentage.

One quarter of all women now aged 50 will experience a serious fracture of the spine &/or hip during their lifetime. Identifying and treating those most at risk will make an impact both on patient well-being and health care expenditures.  Stratford General Hospital performs approximately 1800 BMD studies per year.

Thanks to the generosity of our donors, the Stratford General Hospital Foundation is able to fund this very important piece of Imaging equipment.  I would also like to extend thanks to; Jessica Rains-Montgomery from Materials Management
Sheri Bell from IT, Jennifer Carter, Senior Technologist and Certified BMD Technologist
Dr. Lynda Harker, Medical Program Director for Imaging… who all worked alongside of me over the last 6 months in this RFP replacement project".

-Louanne Plain, MRT ACR, Manager Medical Imaging, HPHA
(2020)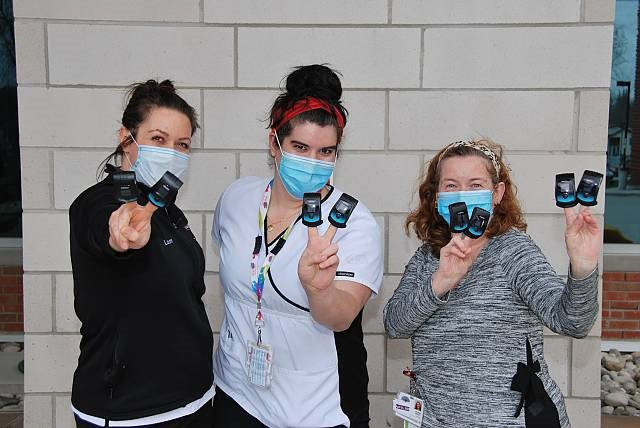 HPHA Healthcare Heroes Fund Has Impact
A total of 50 pulse oximeters which measure the blood oxygen level of patients have been purchased to allow greater flexibility for HPHA in their battle against COVID-19.  Ten of the oximeters are deployed in the Integrated Stroke and Telemetry Units.
Donate: https://bit.ly/2J0nYYY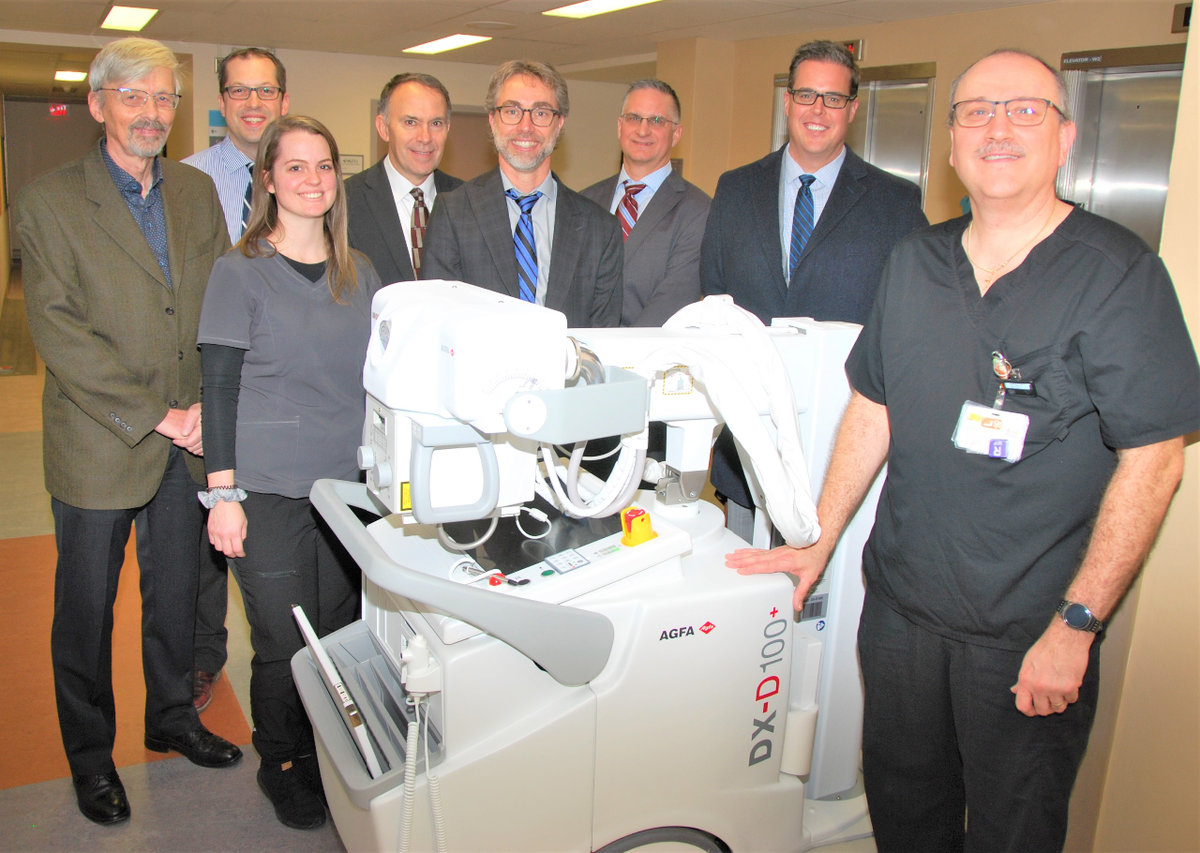 Portable Digital X-Rays

Equipment Update
 
A special thank you to our community for their generosity over the holiday season, allowing for the purchase of two digital portable x-ray machines totalling $228,000. This new technology is faster, produces clearer images and generates lower levels of radiation—all positive things for both our caregivers and the patients we serve. We hope to raise additional funds through our HPHA Healthcare Heroes fund to purchase one more to be dedicated to COVID-19 patients.
(2020)
Every Donation Counts
Every donation, no matter how large or small, helps us continue to make a real difference in community health care.
To meet tomorrow's needs, we must ask for your help today!
When you give to your Hospital:
You help us to help you
You help us to help your loved ones
You help ensure your Hospital's priority needs are met.
We're there when you need us… now we need you!
Invest in Your Health!
Please make a contribution to:
Stratford General Hospital Foundation
46 General Hospital Drive
Stratford, ON N5A 2Y6
People Caring for People
Our community has a rich tradition of support. For more than 100 years, patients have been treated with the highest quality care at our Hospital, thanks in part to our generous community's commitment to health care. Whether individuals, businesses, service clubs or community groups, our Hospital and patients have consistently benefited from people caring for people.